Michele's Client on the Cover of Tattoo Magazine
Thursday August 29, 2013
August 30, 2013
Greetings from Hyperspace Studios!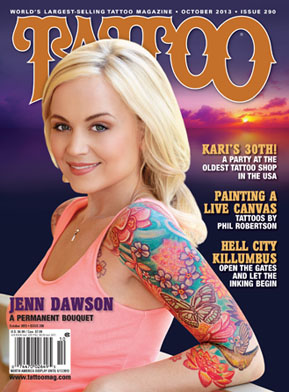 Tattoo Magazine is the world's longest-running tattoo publication, and throughout our careers Michele and I have regularly appeared within its pages. This month one of Michele's longtime clients, Jenn Dawson, is gracing the magazine's cover and has a nice feature article showcasing her artwork from Michele. Her unified bodyset tattoo has been in progress for years, and her article is a celebration of careful planning and work, a great example of what a feminine unified overall look can potentially be. It's available now at your local newsstand, and you can see more of Michele's distinctive tattoo work, as well as other art, at www.michelewortman.

In this month's issue is also the latest installment of my Ask Guy column, where I'm taking questions of all sorts from both artists and collectors. In this installment comes the question: When is a laser necessary for a coverup project? I go into detail based on my experiences as both an artist and collector who has had a considerable amount of lasering and coverup work done. Take a look in this month's Tattoo Magazine, or come check out the online version at either TattooEducation.com or GuyAitchison.com. And don't hesitate to hit me with your toughest questions.
Have a great Labor Day weekend, and we'll be in touch soon!
Guy AItchison