Two Upcoming Seminars, Now Available As One Great Ticket!
Thursday March 27, 2014
After the great successes of the seminars we produced from Jeff Gogue's Off The Map location in Oregon, I'm excited about the two upcoming classes I'll be offering in the beginning of April. These are classes for professional tattooists only, or for apprentices of professionals, and go into great detail about both design and technique, a balance which I think is essential for doing top quality tattoo work.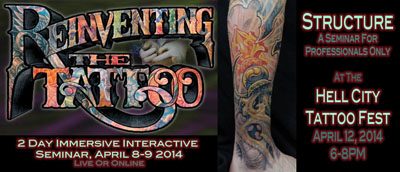 On April 8 and 9 comes the first seminar, Reinventing The Tattoo, which is based on the long-format classes that I've given in the past; but this time I'll be offering it for both live and online participants. I'm offering a total of 30 tickets, since each student will have their work critiqued on the big screen, and will be given exercises that I'll be grading live as well. It's an immersive, interactive 2 day experience that gets right down to the artistic fundamentals important in good tattoo design, along with a lot of technical detail. I'll be answering questions from participants, both live and online- the webinar format can be just as rewarding as being there in person. Tickets are available at the Tattoo Education online store.
The weekend after that is the Hell City Tattoo Fest, where I'll be giving my other seminar, Structure, from 6-8pm on Saturday, April 12. Here I'll be focusing on ways to make your work stronger and more readable, both from across the room or across the decades. This is something that can be achieved in any style of work, including elements that are meant to be softer or lower contrast, and I'd like to share the things I've learned in the course of 25 years of experimentation. You can get tickets for this at our online store, or just drop by the Hyperspace Studios booth, where I'll be tattooing, signing my new prints and selling my new professionals-only DVD set.
For those looking to get the full spectrum experience I'm now offering a combination ticket where you'll get a $50 savings for enrolling in both classes, which cover different aspects of tattooing. I scheduled the Reinventing class to give artists time to travel to the convention, making it easier to attend both, whether it be live or online. You can find the combination ticket in our catalog as well.
Thanks, and I hope to see you there!